Air Optix Colors 2 pack
2 lenses per box

Delivery 1-6 Working Days
(Subject to supplier availability)
*(Free delivery for all orders over R700)
R540 Price Match Promise
R 690.00
Need help?
Where's my prescription?
It's on the box!
If you are unsure click here and we'll assist you in locating your prescription.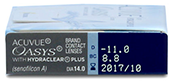 Product Information
Looking for a new, uh, look? Look no further! Air Optix Colors are the same breathable, comfortable lenses you love – now in nine colors. Enhance your current eye color or try something completely new. If you already have a valid Air Optix Aqua prescription, you can try Air Optix Colors without a new fitting.
Product Details
Lens Type: Monthly disposable coloured contact lenses
Package Details: 2 contact lenses per box
Manufacturer: Alcon
Colours: Blue, Brown, Grey, Green, Honey, Brilliant Blue, Gemstone Green, Pure Hazel, Sterling Grey, True Sapphire, Turquoise, Amethyst
Please note we cannot guarantee colors in images to be the exact same on the wearer's eye
All eyes differ and colors show differently depending on your eye colour

Shipping Info
Delivery times are usually within 1-6 working days* 
But we'll do everything possible to make sure it's even quicker depending on the availability status of each item

Should Alcon South Africa have no stock available then delivery times may be slightly longer
Backorders may rarely occur and if so we will notify you via email with options to proceed
Free shipping & returns, for orders over R700.

* Subject to manufacturer (Alcon South Africa) availability 
* Working days are Monday to Friday - 08:00 - 17:00

Best Contact Lenses 
Colored Eye Contacts   Freshlook Colorblends   Non Prescription Colored Contact Lenses   Daily Disposable Contact Lenses   Weekly Contact Lenses   Monthly Contact Lenses   Toric Lenses   Crazy Contact Lenses   Crazy Colored Contact Lenses   Halloween Contact Lenses   1,2 & 3 Tone Contact Lenses   Bifocal & Multifocal Contact Lenses
Contact lenses cleaners & more
Contact Lens Cleaner    Contact Lens Cases    Eyedrops
Contact lenses brands
Acuvue    Air Optix    Avaira    Biofinity    Biotrue   Clariti    Dailies  Frequency   FreshLook   MyDay   Proclear    PureVision    SofLens   Ultra
Shop related & recommended products
Awesome Colour Contacts
I am a regular customer of the air optix colour contact lenses. I specifically love the colour grey and would recommend it to anyone who wants to change up their eye colour temporarily. The lenses are super comfortable, best buy all the time.
LOVE AIR OPTIX COLORS
Air Optix Colors is very good lenses and very breathable.
The Amethyst is bit light but have a affect. The brilliant blue is excellent.
Just kindly inform customers that medical aid does not reimburse you for color contact lenses.
But overall I am very happy!
Optix lense
I ordered the pure hazel and emerald green. I am happy with the colour and the strength of the lense. The delivery was quick.
Will be ordering regularly
Easy lens order
I'm always happy with how easy it is to order my lenses. And always get delivered fast